Markham is the 16th largest city in Canada but that's not all its known for. The city is home to a number of restaurants and eateries, making it a food haven (or heaven) for many. Fortunately, this also includes the Muslim population that can only enjoy halal food.
You will find a number of halal Chinese restaurants Markham, Thai restaurants Markham and fast food joints. This makes the city a great place to visit if you're a fan of dining out. But like we've mentioned before, owing to its large size, finding a halal restaurant in Markham can quickly turn into quite an adventure. And that's exactly why we've volunteered to do all the hard work of finding the best halal restaurant in Markham for you.
Here is a list of the best restaurants in Markham that offers amazing halal food.
The Best Halal Restaurants in Markham:
Markham is a city with a lot of halal food options, but these halal restaurants in Markham will not disappoint you, my friend. In fact, they are a must try and we guarantee you'll want to try these halal restaurants again and again.

1. Simply Delicious:
Let's start off the leading best halal restaurant in Markham. Simply Delicious is a restaurant that serves halal Indian and Pakistani food for all those desi folks craving for good food back home. This halal restaurant is famous for its never-ending menu and finger licking halal desi food.
Their menu includes a variety of delicious food options including vegetarian dishes, BBQ, seafood and much more. Simply Delicious is a halal restaurant Markham that you certainly don't want to miss if you're craving for some desi food.
Also, Simply Delicious is the perfect place if you'd like to enjoy a family dinner. It is big and spacious with a great interior.
Location: 7850 Woodbine Ave Markham, ON L3R 4S1, Ontario, Canada L3R 4S1
Ratings: 3.0/ 5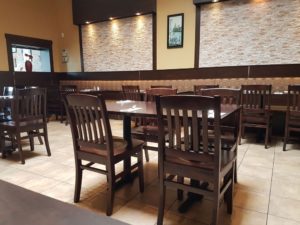 2. Kara Mia:
For people who think they might never be able to enjoy a decent halal Italian dish, Kara Mia is all set to prove you wrong. Kara Mia is halal restaurant Markham that is known to serve the best Asian and Italian food that you could ever get your hands on. Now, you can enjoy a bowl of mouth-watering, saucy, (not to forget, cheesy) halal pasta at Kara Mia.
On the other hand, if you are craving for something desi and halal, Kara Mia will not disappoint… again. The place might not be very big and spacious but the food they serve is definitely Instagram-worthy.
Location: 7690 Markham Road (Markham & 14th), Unit 6, L3S 4S1
Ratings: 4.5/ 5

3. India's Taste:
Here is another best halal restaurant in Markham that serves delicious halal Indian meals that are super tasty. India's Taste sticks to its authentic recipes, by using all the spices and sauces that desi people crave for. If you ever go there; make sure to try their butter and tandoori chicken and of course, their gulab jamun's. I bet you will fall in love with desi food all over again.
Location: 680 Dennison Street. Markham, ON, Dennison St. and Victoria Park Ave.
(West of Woodbine Ave.)
Ratings: 4.5/ 5


4. 39 Spices:
Who doesn't love dining at a nice upscale restaurant? Bonus points if the place serves desi food. If you agree, we have got the right place for you. 39 Spices is the best halal restaurant in Markham that serves the delicious Indian and Pakistani food. Owing to their exquisite menu, the upscale restaurant offers the ultimate fine-dining experience.
Also, the ambiance of 39 Spices is certainly worth raving about; their restaurant is dimly lit, contributing to its cozy atmosphere. Their butter chicken is also a must-have, by the way.
Location: 39 Main St N, Markham, ON L3P 1X3, Canada
Ratings: 4.0/ 5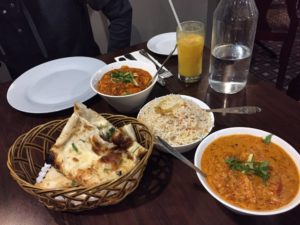 5. Osmow's:
Last but not the least, Osmow's is great halal restaurant Markham that is famous for its shawarma. If you have a sudden appetite for halal Mediterranean food, Osmow's offers a wide variety of delicious and spicy shawarma, a variety of different type of kebabs and platters that makes this place a hit.
Their chicken on rocks is everybody's favorite and is a must-have halal dish in Markham. The place may not be as big, but you will definitely love the food here.
Location: 9750 Markham Rd, L6E 0H8 ON L6E 0H8
Ratings: 3.5/ 5